We pride ourselves on our homemade gourmet breakfast!
Taste our generous and beautifully presented Greek buffet breakfast and begin a wonderful day, on the stoned (paved) veranda filled with flowers and herbs. Myra and her staff prepare it with love early in the morning and change the menu on a daily base to allow you to experience different Greek recipes and delicacies.
Breakfast is a wondrous exploration of Myra's recipes book. The delicious, homemade Greek pies that are served steaming from the oven and fill the air with wonderful aromas, the fluffy cakes, nutritious biscuits, gourmet ideas for marmalades, allow you to experience the taste of the finest and purest local ingredients.
Continue your culinary journey with our selection of gourmet delicacies from Kefalonian and other parts of Greece. Taste Kefalonian dairy products such as the famous feta, kefalograviera, mizithra, kefalotiri and thick Greek yoghurt. Enjoy fresh vegetables from local producers at the local market in Argostoli and orange and grape-fruit juice from trees in Messinia. Complement these flavors with pure honey. Savor a gourmet bite of turkey, ham and salami from the premium Cretan brand "Creta Farm". We also love to use several premium local brands for our breakfast ingredients such as "Olimpos" sheep's milk and cow butter, "Allatini" flower and the best Greek nuts.
"We choose to prepare our homemade recipes with locally produced, grown and sourced ingredients so that you can have the ultimate Greek gastronomic experience"
Myra Sarris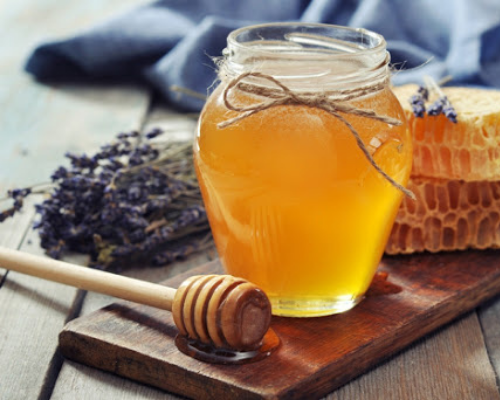 The pure honey
We are confident that the honey we have selected for our breakfast is the purest in the world! Mr. Stavros, a good friend of our family, produces honey for his family and friends as a hobby. Mr. Stavros passion allows us to savor this great quality honey. We will reveal all the secrets so you will be able to recognize the quality of the honey you may wish buy on your own.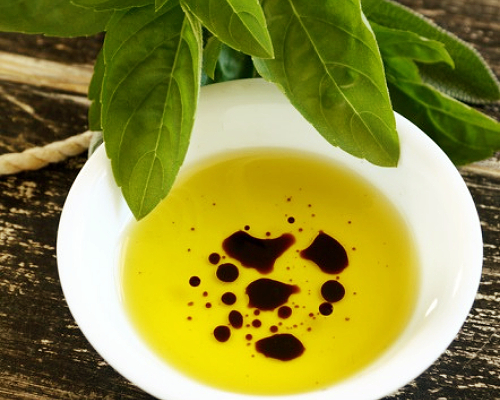 Olive oil – new!
Olive oil is the source of life, the corner stone of the Mediterranean diet and the "Super Food" of Agnantia's breakfast. Like all Greeks we love to use a lot of olive oil in our cuisine and we are lucky to be able to produce it from our own olive trees in Corinth in the Peloponnese. During Agnantia's breakfast you can taste it in our homemade pies and Dakos salad. But from now on, you will have the chance to experience it raw, straight from a glass jug. Pour it over a slice of brown bread and add oregano, tomato and olives. Savor the aromas, taste and yes, this is the nutritious side of life.
Τhe Kefalonian yoghurt
The island of Kefalonia is famous for its dairy products and particularly for its yoghurt. We highly recommend you taste the pure Kefalonian yoghurt we serve at breakfast combined with honey or homemade marmalades. Your experience of the healthy Greek diet has just began.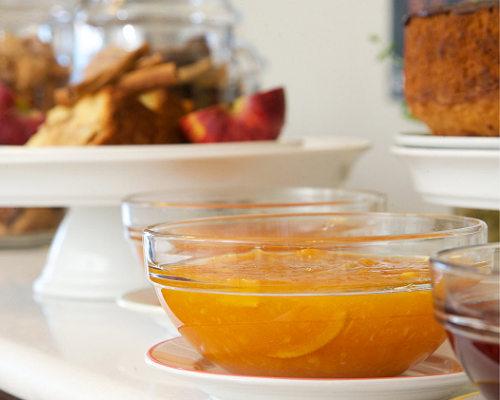 Myra's marmalades
Juicy and mellow un-waxed fruits with sugar (or not), water and love! These are the ingredients one needs in order to preserve all the vitamins, essence and rich homemade flavor. Try orange, peach, strawberry, vanilla, nectarine, apricot, citrus fruits and even more types of marmalades. Imagine how delicious they can be, when you combine them with butter on slices of warm bread, baked in the village's traditional bakery! We always feel rewarded when we see you enjoying them.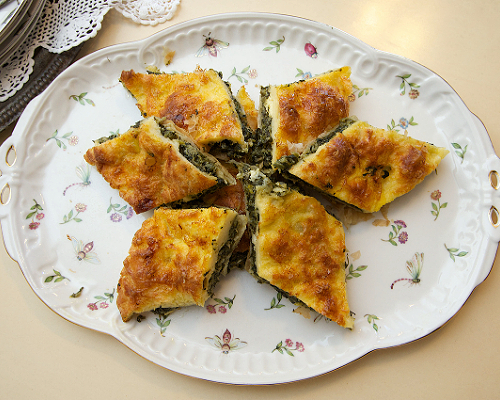 Greek homemade pies 
A savory option is never missing from a Greek breakfast. Cheese pies, spinach pies, Mediterranean pies, courgette pies with feta cheese and even more are some of Agnantia's selection of pies (6 days per week). Early in the morning, the aromas spread throughout the buffet area and the flowery veranda. One of them is being baked in Myra's tiny but miraculous kitchen. No matter how hard you try guessing the pie of the day, we will always manage to surprise you.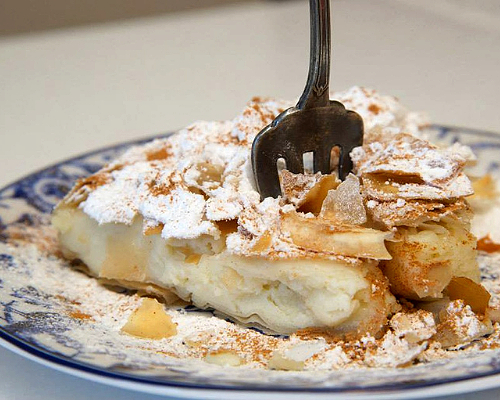 Mpougatsa (cream-filled pastry)
Another surprise at Agnantia's breakfast is the tasty Mpougatsa with its crunchy pastry, served hot with plenty of icing sugar and cinnamon. The first bite will convince you that this is a treat for the senses.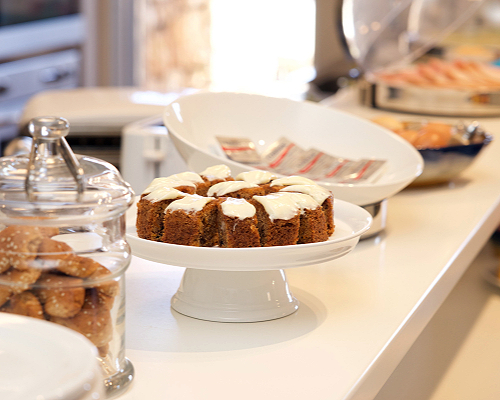 Fluffy cakes
Delicious and original cake recipes with chocolate, vanilla, orange, lemon, almonds, nuts, raisins are prepared by Myra on a daily basis. Try your morning coffee or tea with a piece of our fluffy cake and enhance your taste experience.