Foki is a beautiful beach in North Kefalonia, situated at the starting point of cosmopolitan Fiscardo (and 1,5 km from Agnantia Hotel Apartments). You will love its blue and green sea water colors and the natural shade from oak and olive trees. The rich coastal cypress, perennial pines, oaks and arbutus trees forest, of the Erisos peninsula of Fiscardo reaches right down to the shore. The cleanliness of the waters is proved by the seaweeds families that grow in the depths of these waters, such as the Poseidonia seaweed which cannot survive in more than 1% of pollution. Many travelers have said about Foki beach that is like swimming in a fairytale lake.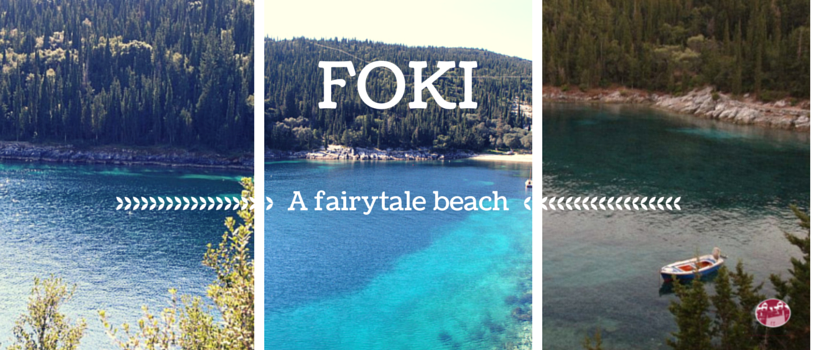 You can choose to swim at the beach, in the front or follow the path on the right side of it, where other private and smaller beaches are found.
Another interesting point is the large cave at the end of the bay which is over 100 metres deep. Top-quality stucco was mined there until the 1950s, and loaded onto ships for export on the jetty beside the cave. Swimming till the cave, it was always a challenge for the locals (try it also is a good summer exercise). You can walk half the way to the cave through the path on the right of Foki beach (at the last few meters you need to dive into the water and swim to reach the cave). When you reach it, you can swim or rest for a while at the beach of pebbles inside the cave.
Foki, it was named like this because seals ("fokies" in Greek) used to go on to that shore to sunbathe on the sloping rocks. This is, also, where the local captains moored their vessels for the winter, until they could spread their sails once more in the spring and embark for the ports of the Black Sea. Nowadays is still the only sheltered harbor in Northern Kefalonia for travelers with yachts and sailboats. Moreover, the "Kiparission" path starts from Foki beach. A path that is enfolded by the forest and goes through the traditional Tselentata settlement. There, you can walk among stone-built residences with bougainvillea and cisterns and to the top of St. Gerasimos beautiful church. The church was built in the 18th century and the floor tiles had been imported from France.
Is Foki a beach you will love to visit this summer? You are most welcome to join us 🙂